Nyt voisin sanoa osuneeni lähestulkoon kultasuoneen, sillä niin huikean määrän palkintoja sain voitostani
Loves Rubberstamps
-sivustolla. Haasteeseen osallistunut
juhannusjoulukorttini
nousi arvontapalkinnon (siis -palkintojen!) saajaksi ja tällaiset ihanuudet sain:
Ei liene yllätys, että jokunen päivä meni ennenkuin ne kaikista mieluisimmat digileimat oli valittuna ja lahjakortti parhaimmalla tapaa käytettynä. Muistoksi tottakai sivupalkki saa uuden, tooooodella suloisen, lätkän: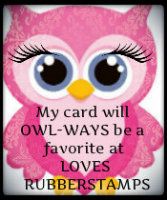 With this new badge I am feeling like a lucky gal ...I won a _huge_ amount of prizes from Loves Rubberstamps challenge page (with this card):
It actually took me couple of days to choose what digis I will have because there were a lot of fabulous ones and I could have easily chosen sooooo many of them. And it wasn't any easier to choose how to use my gift certificate either.
//Eemeli